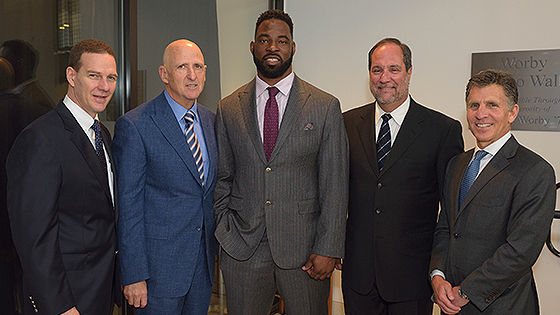 Take a look inside the Jeffrey S. Moorad Center for Sports Law in these streams of Andrew Brandt's Fall 2016 Sports Law: Advanced Practices, Skills, and Documents class.
More on the class: Andrew Brandt tackles a variety of amateur topics — NCAA, student athlete eligibility, and Title IX compliance — as well as professional issues, including franchise acquisition, collective bargaining, immigration matters, player safety, grievance proceedings, drug testing programs, and agent compliance work.
WATCH ANDREW SPEAK AT THE SPORTS LAW SYMPOSIUM 2018
WATCH ANDREW SPEAK AT THE 2018 MIT SSAC
Jeffrey S. Moorad Sports Law Journal Symposium
Brandt organizes and hosts the annual Jeffrey S. Moorad Sports Law Journal Symposium, a one-day conference that welcomes legal leaders, acclaimed sports media members and the professional athletes, coaches, and leagues the formers represent and cover. In a series of panels, speakers explore high-profile cases and the latest trends dominating today's business of sports. In 2016, Brandt wrapped up the conference with a panel featuring two-time Super Bowl champion Justin Tuck, who discussed the professional athlete's journey and the post-career transition with David Falk, the founder and CEO of Falk Associates Management Enterprises.
Dive into the Jeffrey S. Moorad Sports Law Journal Symposium archive, with conference videos and panelist interviews dating back to 2013's event.
Do you have a question for Andrew or would like to connect about a possible speaking engagement?